.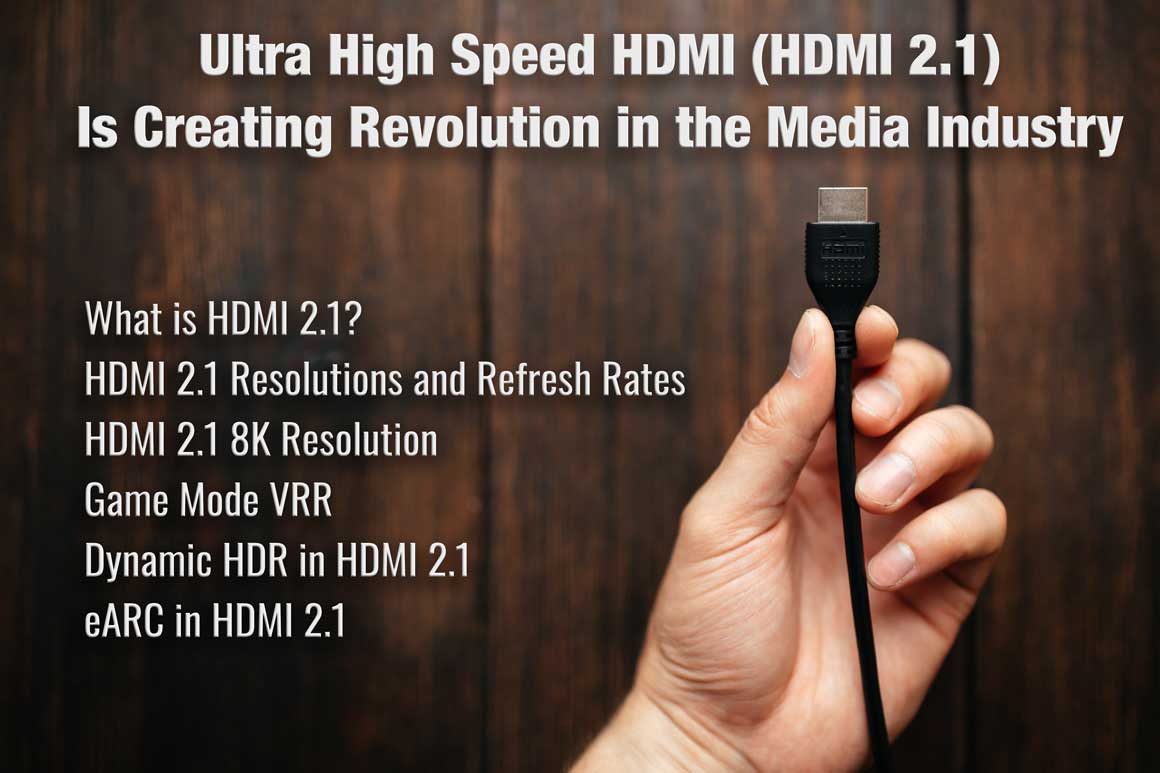 The new specifications for HDMI (High-Definition Multimedia Interface) cables were settled back in November 2017. However, mass-market television hardware is yet to adopt these new standards. However, the day these standards trickle down to the mass-market level will be a major step in the AV industry and for the home viewers who want the best for their home broadcasts, films, Tv series, and gaming consoles.
The introduction of the first High-Definition Multimedia Interface was a relief for everyone; people no longer had to use bulky SCART connectors or the confusing component video cables ever again. Moreover, HDMI offered high definition video with a connector that was somewhat better than a standard USB plug.
However, as the requirements for TV changed, the standards for HDMI have continued to improve with new features being added continuously.
What is HDMI 2.1?
HDMI 2.1 is another notch in this progress towards high-definition multimedia. The real catch of HDMI 2.1 is that it supports 8K content at 60fps. Apart from this, there are a number of features that add to the competent standards like support for Variable Refresh Rates, Dynamic HDR, Quick Media Switching, among others. This makes switching between media which are attached to the Television faster than before.
The new technologies in Ultra High Speed HDMI 2.1 support resolution 8K/ 60Hz and 4K/120Hz. This new technology in Ultra High Speed HDMI also includes- High Dynamic Range (HDR), Auto Low Latency Mode (ALLM), Enhanced Audio Return Channel (eARC), Quick Frame Transport (QFT), Quick Media Switching (QMS), and Variable Refresh Rate (VRR). The new standards come with a variety of new features.
HDMI 2.1 Resolutions and Refresh Rates
You can now refresh faster with ultra-high-speed HDMI 2.1 cables. cables. This new version of HDMI also includes 8K resolution at 60 frames per second and 4K at 120 frames per second. These are the two major features of this HDMI that will get gamers and home cinema eggheads hooked.
There has been a significant improvement in the resolution and refresh rates.
According to the director of HDMI licensing, Jeff Park, the Tokyo Olympics of 2017 was going to be the driving force of 8K TV content. The NHK (Japan's national public broadcaster) was going to push 8K/120 fps as the real broadcast steam. Hence, many consumer electronic producers were trying to achieve this target and the HDMI licensing team was all set to lay down the line to provide industry flexibility.
The idea was to keep the HDMI technology at the forefront; the HDMI 2.1 is capable of exceeding this expectation. The HDMI 2.1 can even support up to 10K at 120 Hz higher resolution capabilities. Although it may take a while to gain the support of the commercial set, it is possible to enhance the capacity of HDMI 2.1.
HDMI 2.1 8K Resolution
It is okay to ask whether you really need 8K supporting hardware and connectors. However, most content that you watch on TV is SDR or HD; 8K content will follow soon. While the industry is still getting used to the idea of 4K sets, HDMI 2.1 is looking forward to its usefulness in VR.
Today, the content has shifted from a linear paradigm to mostly VRs. VR is all about high resolution and higher frame rates. Hence, one of the industry's targets is the practical application of 8K at 240Hz. Even if this is currently beyond HDMI 2.1, it is achievable in the next spec.
Game Mode VRR
The game mode VRR feature includes everything that includes real-time interaction. The VRR in ultra-high-speed HDMI 2.1 stands for Variable Refresh Rates. This means there will be considerably less image lag, stutter, and frame tearing. The effect will be similar to the one achieved by FreeSync and G-Sync on PC.
HDMI 2.1 is one of the best things that can happen to a gamer. HDMI 2.1 will enable 3D graphic processors to extend and project images in real-time, paying attention to greater details and result in more 'fluid' gaming.
VRR will provide a more immersive experience than before with no lagging at all. HDMI 2.1 is going to have a significant impact on all gaming applications and experiences.
No matter whether it's 480p or 8K gaming, one can definitely get immediate feedback and interaction with HDMI 2.1.
Dynamic HDR in HDMI 2.1
For home cinema fanatics, dynamic HDR is one of the biggest news. The growing popularity of HDR prompted HDMI 2.1 to adopt dynamic HDR. This means now you get to experience the finest values of depth, details, brightness, contrast, and wider color gamuts in a more pronounced way.
Currently, HDR is applied by taking the average value for HDR across a full cinema. However, dynamic HDR accredits the HDR metadata that can be applied by frame to frame and scene to scene precisely and more practically. Dynamic HDR is on its way to give a new efficiency to HDR.
eARC in HDMI 2.1
In the past, HDMI cables had an Audio Return Channel (ARC) that enabled audio both ways between a TV and audio gear. This practically allowed displays to send their own audio to a soundbar or a surrounding sound system, foregoing its own speaker.
HDMI 2.1 with eARC is basically an enhanced version of this ARC. The eARC is adaptable to the changing audio codecs that may also include object-based audio codecs like Dolby Atmos and DTS:X.
HDMI 2.1 is Creating Revolution in the Media Industry
Many major TV manufacturing companies and other gaming console makers are adopting HDMI 2.1 in 2020. All of Samsung's 4K QLED sets this year are going to feature HDMI 2.1 ports that will give the consumers some options. Again, other LG products feature HDMI 2.1. Overall, the industry is yet to fully accept the HDMI 2.1 cables.